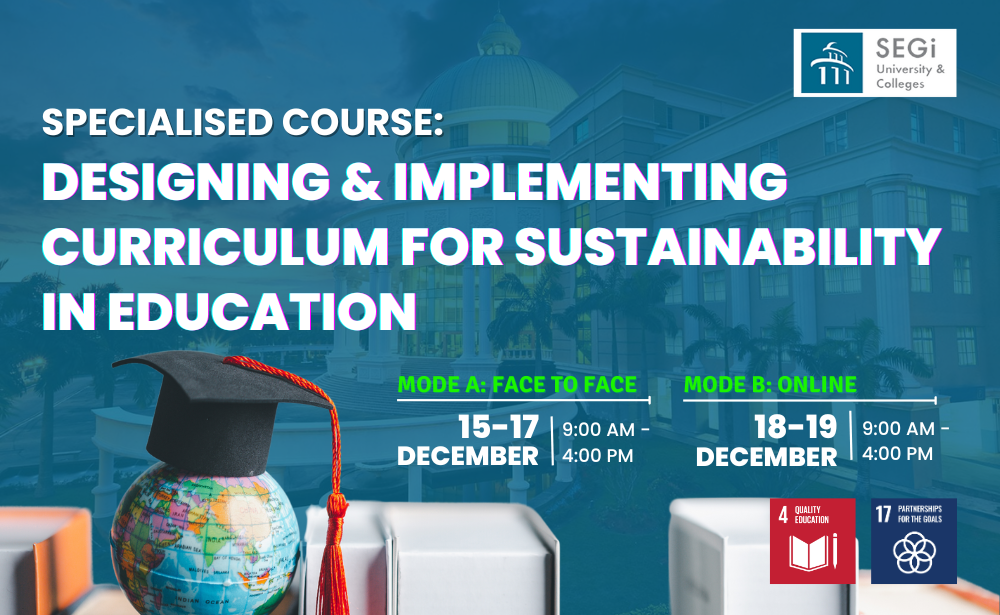 Dive into the future of education with the jointly organised specialised course by SEGi University's Faculty of Education, Languages, Psychology and Music (FoELPM) and CEEiTL. Explore curriculum design for sustainability and embrace the challenge of achieving UNESCO Sustainable Development Goals (SDG) through inclusive education.
Objectives:
Discuss curriculum and teaching methods to encourage a mindset of sustainability.
Provide participants with the skills to create and execute educational programmes that support Sustainable Development Goals (SDGs) and prioritise inclusive education.
Who Can Join?
This course welcomes teachers, lecturers, school leaders, government officers, undergraduate and postgraduate students, and the public!
Save Your Spot:
MODE A: Face-to-Face
📅 15 – 17 December 2023
🕒 9.00am – 4.00pm
📍 R1.9, Level 1, SEGi University
MODE B: Online
📅 18 – 19 December 2023
🕒 9.00am – 4.00pm
📍 Meeting link will be emailed to you upon completion of your registration and payment
Book your seat now! Register your attendance at this link: https://bit.ly/SEGi-CEEiTL_SpecialCourse
For enquiries, contact us: [email protected]
• Certificate of attendance will be provided.