SEGians rejoiced as the International Food Fair was back for another year in SEGi University! This awaited fair had eager students from all walks of life participating to showcase their unique culture through food. This marks the 11th year of the annual event to take place in SEGi.
The fair was bursting with energy and it bustled with SEGians from all sorts of programmes. Music and cheer filled the air. Each booth had a flurry of supporters rooting for their country to win as their food was put to the test by chefs from the School of Hospitality & Tourism.
Here are some of the countries seen at the fair:
1. Maldives
Maeesha Aaidh, taking Foundation in Arts, represented the Maldives. She took a different approach by bringing Maldivian snacks instead of main dishes to showcase at their booth. She explained that she and her team found that tea time snacks would be more convenient for students to consume at a fair. Some of the snacks on display were Paan Boakiba (Breaded cake), Havaadhulee Bis (Curried tuna dumplings), and Masroshi (Stuffed and fried dough). Maeesha found that studying at SEGi is a joyous experience as she made a lot of friends when she first joined the university.
2. Egypt
Mohab Maher, taking a Bachelor's in Electrical Engineering, represented Egypt. The food they showcased at the booth was Alexandria Kushari (A rice dish with different types of pasta and tomato sauce), Ful Medames (A stew of cooked beans), and Basbousa (A traditional sweet cake). Mohab expressed his appreciation for the experience of teamwork he gained from the event when he was selected as the representative of Egypt.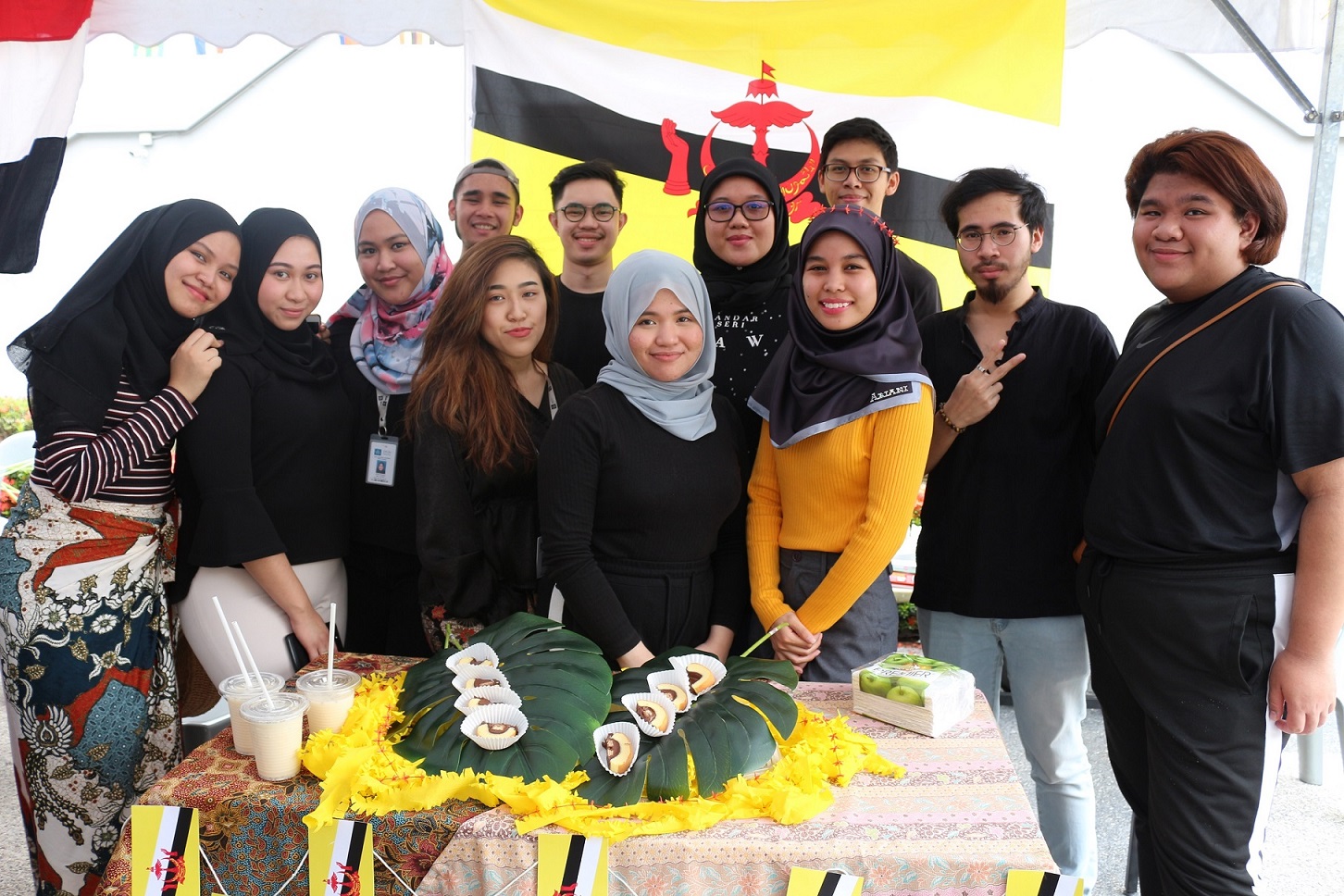 3. Brunei
Haziqah Omar Ali, taking a Bachelor's in Visual Communication Design, represented Brunei. They showcased a traditional dessert with a modern twist called Tapak Kuda, which translates to 'Horse Shoe'. It was a cakey dessert that had hazelnut chocolate cream filling with choices of different chocolate bars in the center. They also concocted a drink called Ayer Karsa that had pandan, bananas, evaporated milk, and small pearls. Haziqah always looks forward to the events in SEGi. She finds that the community of people is fun and enjoys the course she is currently pursuing.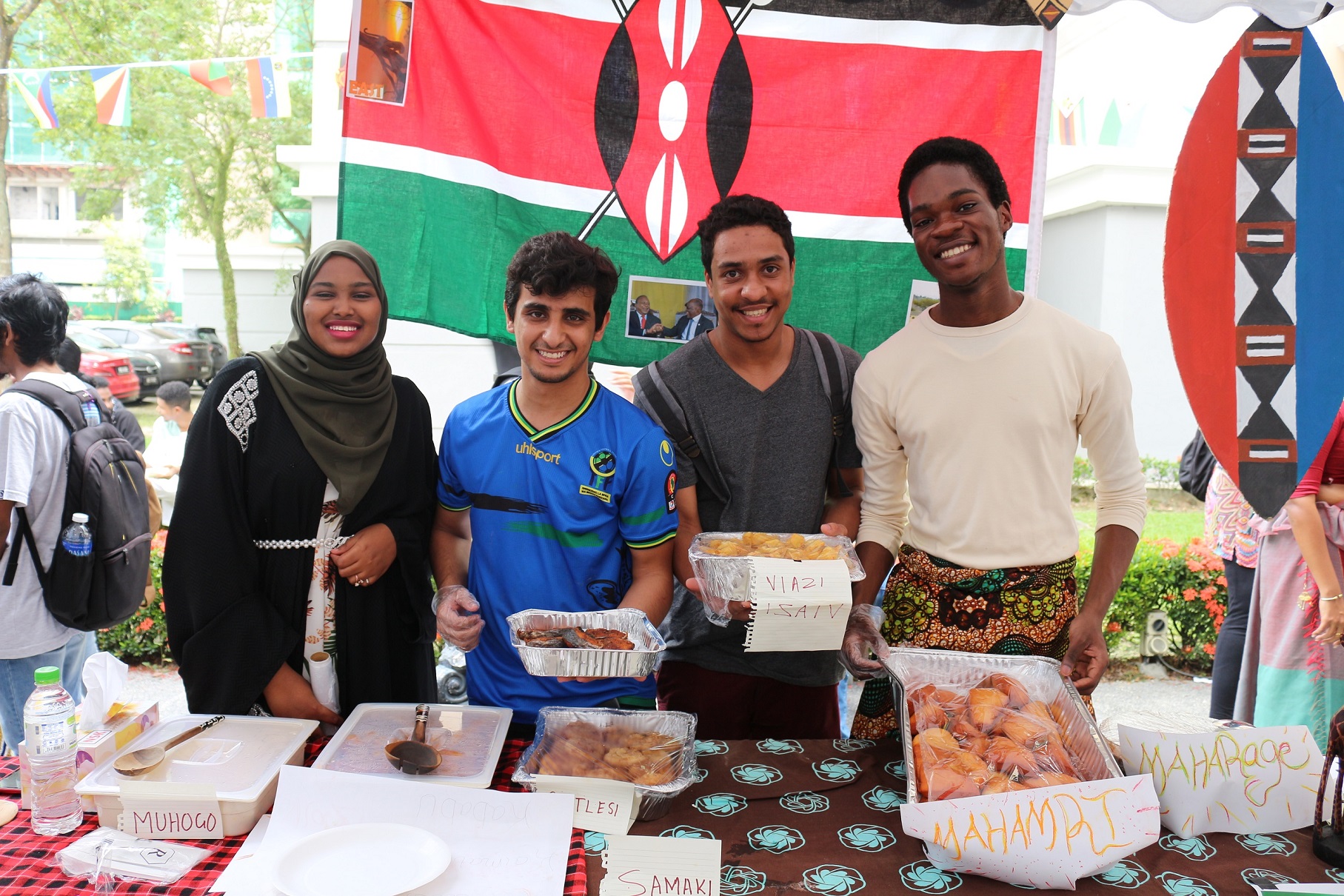 4. East Africa (Djibouti, Tanzania, Kenya)
Fatma Mahmud Hussein, represented countries in East Africa that were on the coastline. Since there were 47 tribes in Kenya, they chose 1 tribe to represent the food of all 3 countries – Swahili. On display was Muhogo (Coconut cassava), Mahamri (Fried doughnuts), and Maharagwe (Coconut beans). Coconut is a main ingredient in their cuisine as there are a lot of palm trees in their countries. Fatma enjoys the diversity in the people and cultures in SEGi and felt honoured to represent East Africa in her first year.
The judges were Mr. Bonnie, Chef Fayruz, and Chef Adam. What they looked for was the presentation and decoration of the booth, cleanliness of the booth, promotional skills in presenting the food, coordination and management of the booth, and most importantly how tasty the food is.
Several performances occurred including a flashmob that had dancers move to the rhythms of Afrobeat-styled music. It was a spectacle to take in as they brought out the heart and soul of Africa.
The food fair was held in conjunction with the International Cultural Night that is organised by the students from the SEGi International Student Society (SISS). The project manager is Daniyal Jawaid who also holds the position of President of SISS. He stated that over 400 students from 16 countries participated in the event to display diverse cultures in one place. To mention a few, some of the countries participating are Malaysia, Yemen, Kenya, Sri Lanka, Egypt, Maldives, Brunei, and many more.
Wishing them all the best for the one to rise to the top!