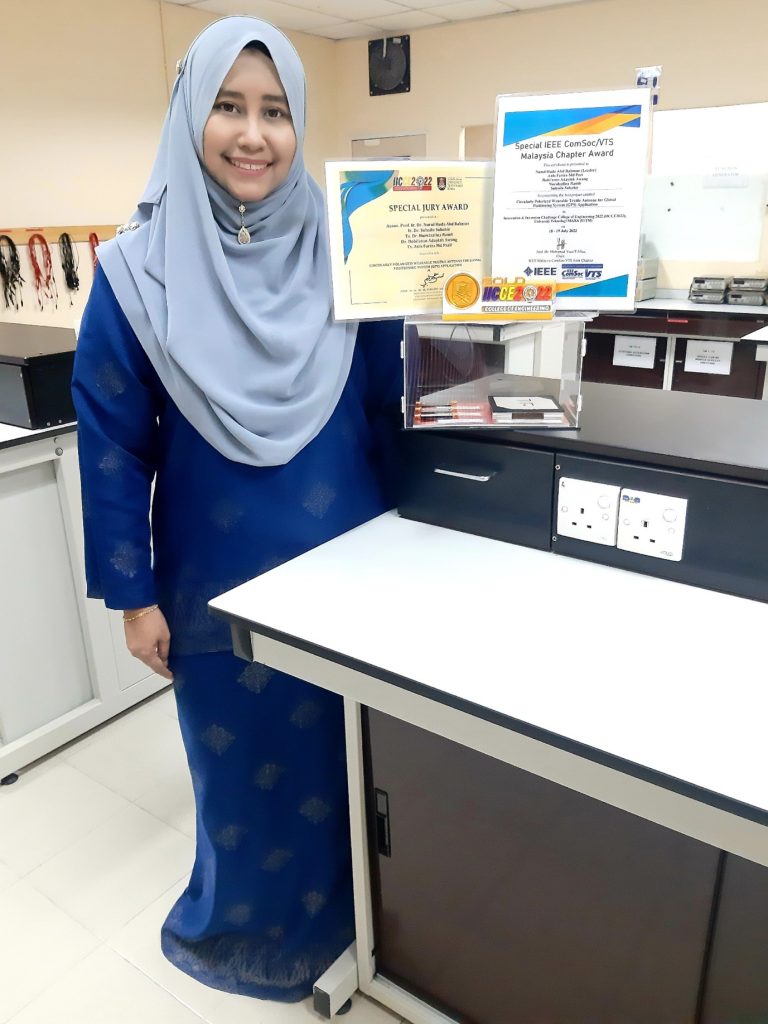 SEGi University's Senior Lecturer in Electrical & Electronics Engineering Ts Anis Fariza scored triple wins at the Innovation & Invention Challenge, College of Engineering 2022 (IICCE2022).
Anis's winning invention, 'Circularly Polarised Wearable Textile Antenna for Global Positioning System (GPS) Application,' is aimed to be implemented for on-body communication for wearable tracking applications by integrating the textile antenna as part of clothing.
"I never expected to win three awards in a row, as IICCE2022 was a very competitive competition with over 80 contestants taking part from four engineering disciplines of Electrical & Electronics, Mechanical, Civil and Chemical Engineering. I owe this achievement to all SEGians, especially the Faculty of Engineering, Built Environment & Information Technology (FoEBEIT) team, Ts. Dr Nurulazlina Ramli and Assoc. Prof Ir Dr Nurul Huda Abdul Rahman, Dr Robiatun Adyiah Awang and Ir Dr Suhaila Subahir from the Antenna Research Centre (ARC), UiTM, for extending their kind guidance and support," said Anis.
The 'Circularly Polarised Wearable Textile Antenna for GPS Application' is an on-going PhD project of Anis' postgraduate study that started four years ago. The invention was inspired by the number of missing children in Malaysia, as the 2017 statistics showed an alarming four children go missing each day (according to NST, 26 September 2017).
One of the main challenges she faced in this invention was the fabric selection decision. A huge range of textiles was used to form the textile antenna, and it must be scientifically proven via simulation and fabrication before the final selection of fabric is made.
She hopes this invention can provide a safer environment for children within the community to enjoy their childhood freedom. This invention is also beneficial for tracking purposes among children, the military, healthcare providers and many more to achieve the Sustainable Development Goals (SDG) roadmap on Goal 16 (Peace, Justice and Strong Institutions) by 2030.
The IICCE2022 is a platform to promote the development and commercialisation of ideas and innovation to strengthen and enhance the role of higher learning institutions that are user-centric and market-driven.
Anis has almost 20 years of teaching experience; this is her 14th year at SEGi University. IICCEE is Anis' second competition after the Engineering, Science and Technology Exhibition 2021 (ESTE2021) IR4.0 Sustainable and Green Technology organised by Mahsa University and the Institute of Engineers Malaysia (IEM). She has bagged two awards, namely Best Presenter and Gold Award for the Postgraduate category of the ESTE2021.
Anis advises academics and students interested in participating in competitions similar to IICCE: "Aiming for the prize or award surely is motivating. Nevertheless, whether you win or not, the experience is the most valuable lesson gained that will help you deal with different challenges in the future as a winning mindset that makes you a better person."
SEGi congratulates Ts Anis for her great winnings in IICCE2022! A great feat indeed.