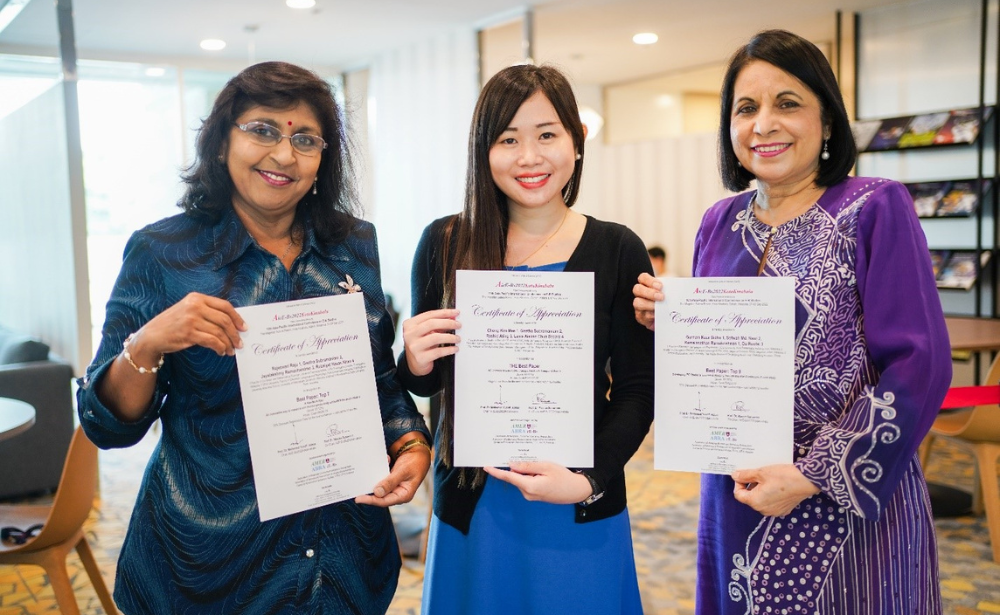 Three SEGi lecturers who presented their papers at the WoS-indexed hybrid 10th Asia-Pacific International Conference on Environment-Behaviour Studies (AiCE-Bs2022) came home with the Top Best Paper Award and two top ten prizes for the Best Paper Awards.
The 38th international conference of the WoS-Indexed Hybrid AicE-Bs2022 was held at The Magellan Sutera Resort, Kota Kinabalu, Sabah, Malaysia, on 7 and 8 September 2022.
SEGi University Graduate School of Business lecturer Dr. Chong Kim Mee and and SEGi University Faculty of Language, Education, Psychology & Music lecturer Prof. Dr. Geetha Subramaniam bagged the Top Best Paper Award. Their paper entitled 'Willingness to use Public Transport in Kuala Lumpur & Manila' with two other co-authors won them a cash prize of RM 3,000 and a fee waiver for the next conference. They beat 61 other papers for the Best Paper Award.
Meanwhile, Prof. Dr. Geetha and Prof. Dr. Gurnam Kaur made it to the top ten prizes. Prof. Dr. Gurnam's paper 'Developing PG Students' Learner Autonomy through the PAH-Continuum: A Case Study' was ranked Top 9, while Prof. Dr. Geetha's paper 'A FlexiWork App: An Innovative Way to Measure and Monitor Productivity while WFH for Academicians' made it to the Top 7. Both Prof. Dr. Geetha and Prof. Dr. Gurnam each won a cash reward of RM 250 and 20% registration off for the next conference.
"We are very happy to have made our presence felt and make SEGi University visible in the international arena," said the lecturers.