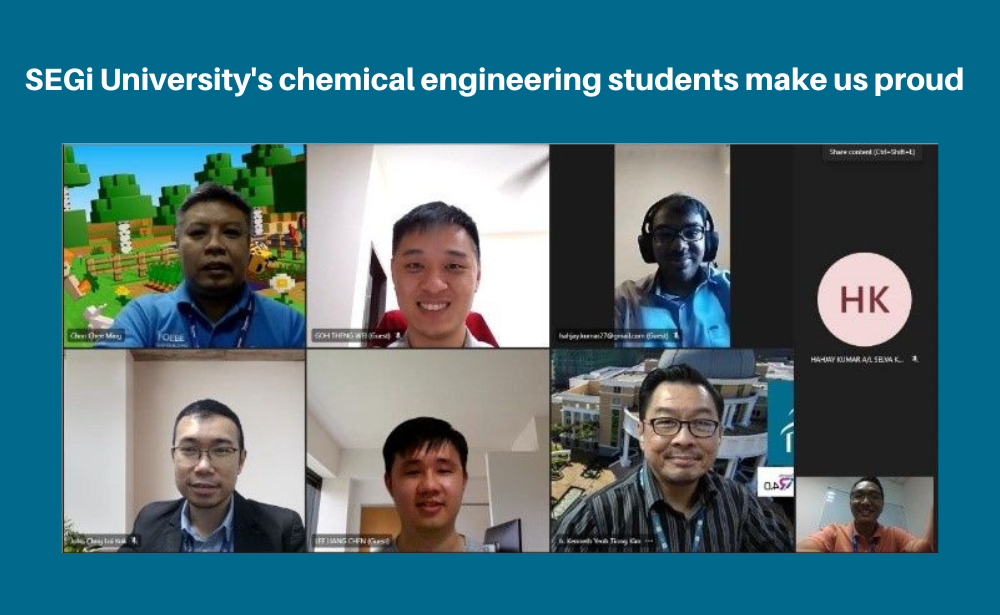 SEGi University's Chemical Engineering students recently won the consolation prize of the 10th IEM Chemical Engineering Design Competition at the 10th IEM Chemical Engineering Design Competition organised by the Institution of Engineers (IEM) Malaysia.
This group of highly motivated graduate students from the Chemical Engineering programme at SEGI University successfully outperformed teams from many public and private universities to win their respective prizes. The theme of the competition was "Valorisation of Plastic Wastes Using Chemical Recycling Technology", and participants were required to design a process flowsheet that was economically feasible to process the plastic waste to valuable products.
Their engineering and innovative solution contribute to Sustainable Development Goal 9 – Industry Innovation and Infrastructure. We want to celebrate the prize received from this national competition and congratulate the students' Lee Liang Chen,  Goh Theng Wei, Hahjay Kumar A/L Selva Kumar, and Fares Kouider, from the Chemical Engineering Programme of the Faculty of Engineering, Built Environment and Information Technology (FoEBEIT).
The industry panel of judges evaluated various stages, such as the progress report, final report, management report and presentation. We want to thank the organising committee of the Chemical Engineering Technical Division of the Institution of Engineers Malaysia (IEM) for organising this national competition.
"Initially, the thought of having to create a process design with limited industrial exposure was extremely daunting. However, as the team progressed through the competition, we found excitement in applying classroom knowledge and collaborating to solve various design problems. Through the industrial judges' feedback, we also gained insight into the practicality of our design and the opportunities for further innovation. We also learned a lot about the entrepreneurship site of chemical engineering and how diverse it is.
Overall, it was an enriching experience as we were able to reap the rewards for our efforts by becoming one of the top three universities while instilling an awareness of the emerging opportunities in the development of a sustainable solution," said Lee Liang Chen, a member of the team that won the consolation prize.
The team was supervised by SEGI University academics Dr Mohd Faizan Jamaluddin, Ir Kenneth Yeoh, and Ir Choo Chee Ming.
"We are very proud of these students who were very dedicated to their design project. This is the first time SEGi University has participated in this annual competition, providing students a platform to solve challenging design topics relevant to the current industry demand and sustainable development goals. They were very open to receiving feedback and went the extra mile to ensure that their project was high quality. They showed dramatic improvements in their presentation skills and got the chance to be exposed to the tasks that chemical engineers do in the industry. This is an invaluable experience for our students at SEGI University," said Dr Mohd Faizan Jamaluddin.